PRC-Saltillo Response To COVID-19
DATE UPDATED: 2/22/2022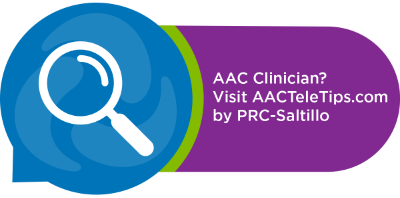 Throughout the COVID-19 pandemic, PRC-Saltillo has been working to ensure minimal disruptions to our service, while putting the safety and well-being of our customers, employees and community as our highest priority. Please see below for specific information:
Learning at Home
Language Lab
The AAC Language Lab offers many free resources, including Parent Guides, sample lesson plans, manual communication boards and much, much more.
Plus, don't miss daily AAC Language Lab activities posted on the PRC and Saltillo Facebook pages followed by a Facebook Live with Jane Odom at 1 p.m. ET in the AAC Language Lab Facebook Group, with special Lab Tours on Fridays.
Realize Language
Realize Language, our online data tracking service, gives parents and professionals powerful ways to monitor, measure, and maximize a child's use of a speech device.
Cleaning & Disinfecting
Please be assured that for equipment/ devices that are shipped out from any PRC-Saltillo facility, we follow the strictest protocol for cleaning and disinfecting. Please visit Tips For Cleaning & Disinfecting Your PRC-Saltillo Device for more information about how you can ensure you're keeping your equipment clean and disinfected.
---
PRC-Saltillo Update on COVID-19 Efforts