Check out the latest changes in TouchChat®, LAMP Words for Life®, and Dialogue® AAC when you update your iOS apps to version 2.44.
Introducing Head Tracking for the LAMP Words for Life app
Head tracking is now available for LAMP Words for Life bringing this research-based vocabulary to more individuals with complex bodies. It also makes this powerful access method available for all three PRC-Saltillo AAC apps!
"It's exciting that individuals who benefit from head tracking will have another option where the motor plan stays unique and consistent," said John Halloran, M.S., CCC-SLP, co-creator of Language Acquisition through Motor Planning (LAMP™).
Simply turn on the head tracking feature located in the settings menu of your app. You'll also find options for customizing tracking speed, cursor smoothing, and more. Consider a larger iPad allowing for larger button size to encourage AAC success for those new to this communication access method.
Visit our robust online support articles to learn more about head tracking on iOS and other app features.
Vocabulary Updates for LAMP Words for Life (Full)
The phonics page now includes initial consonant blends and final word endings
Smoking icons are no longer present
Diverse skin tones are now available in body part icons (English file only)
New Features for TouchChat
In-app purchases are now automatically restored if you install TouchChat on another device
French Acapela voices are now bundled together in a single in-app purchase of $11.99
Canadian French vocab files are now available among standard vocabs without having to download through the Upgrade Store – view screenshots of MultiChat 15 français, Épeler (Spelling), 4 de base (4-Basic), Communication Journey: Aphasie français, and VocabPC français
Vocabulary Updates for WordPower® Files in TouchChat
All WordPower files
Microsoft Word link corrected on the "Write to Apps" page
On the social page, a button for "But I don't know what!" is available following the selection of the "Something's wrong!" button

WordPower60 Basic & WordPower42 Basic
A new logical next word has been added; following the selection of the "open" button, you will now see a button for "the door"

All Picture Communication Symbols (PCS) Files
You'll notice symbol updates throughout the files including the image for cloudy highlighted below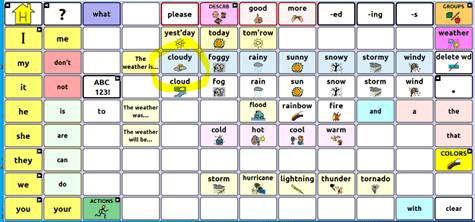 New Features for Dialogue AAC
Whiteboard, an app for drawing, collaborating, and sharing, is now available in the Dialogue AAC app for Essence® 60 and 84 vocabulary files (English only for 2.44) – locate the new button within the tools pages

Looking to grow your communication partner skills? AAC Coaching Corner offers eLearning geared towards parents, families, and professionals to advance your AAC knowledge with the support of a coach and a group. Fall sessions are starting soon. Learn more.
---

Updates
---