It's a virtual world. But that doesn't mean we can't keep going with AAC evaluations and therapy. Your PRC-Saltillo consultant will help you through the journey, with online consultations, evaluations and therapy. Need a trial device? No problem. Looking for free training and implementation? We've got you covered. Since every AAC communicator is unique and there is no "one best way" to serve them online, PRC and Saltillo consultants will help you personalize your remote AAC services for each of your clients.
PRC-Saltillo offers a wealth of resources to make online AAC as easy as possible for you, so you can continue to provide quality treatment and evaluations to clients. Enter AAC TeleTips below and find the online AAC support you need.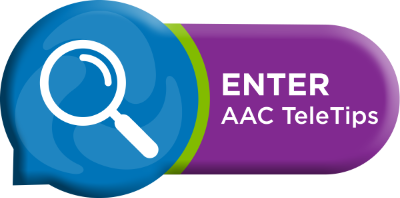 Contact a Consultant
Need assistance? Your PRC/Saltillo consultant is ready to help you to:
Identify whether a client is a good candidate for AAC.
Advise on how to coach families to get them comfortable with AAC.
Set up a remote consultation with you and your client
Determine which device/vocabulary option might be a good fit.
Obtain trial devices/accessories
Conduct remote evaluations/ trials. We've significantly expanded our loan pool for clinicians & parents
Advise on how to obtain approval for a device purchase/trial, including accommodations due to CV-19.
Provide ideas and resources for making AAC therapy sessions productive and fun!
For more information on PRC-Saltillo or how our products & services can benefit you and your AAC clients, click the link below or call 800-848-8008 to find your local consultant. We look forward to hearing from you!
---
PRC-Saltillo has provided "AAC TeleTips" to support speech-language pathologists and other qualified professionals who are providing online AAC assessments and/or therapy. Those conducting AAC assessments and therapy should always follow all ASHA, federal, and state guidelines about performing assessments and therapy in an online environment. AAC Assessments should be performed by licensed Speech-Language Pathologists who are not affiliated with an AAC device manufacturer.